The Aurochs Reservations and Carpathian Fauna Dragos Voda – Neamt County
24 September 2009
No Comment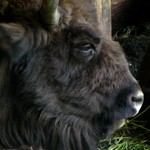 Location: village. Vanatori, Neamt County
The Aurochs Reservation and Carpathian Fauna Dragos Voda is one of the 4 such reservations from Romania and it's also one of the biggest from Europe dedicated specially to aurochs. Located in the north of the Neamt County, in the village Vanatori-Neamt it represents one of the most visited points in the county.
The reservation was founded in 1968 and it lies on an area of approximately 11,500 ha – this is one of the four main protected areas in the National Park Vanatori-Neamt.
From the chronicle displayed in the reservation we find the following things:
"The first aurochs, three in number, were brought from Poland in 1970 and their names were Rarau, Roxana and Raluca
In 1974 the first baby-aurochs are born in captivity. In the same year here takes place the shooting of the movies The Jderi Brothers and Stefan the Great.
In 1978 the reservation from Brasov is dissolved and they bring another male. Now there are a total of 10 aurochs. This is also the year when different other animals are brought in the reservation.
Starting with 2002 the reservation is included in a program that is meant to improve the life of the animals that live here by expanding and improving the enclose."
Within the reservation we can also find: Carpathian deer, rower deer, roe buck, fox, badger, rabbits, bears, wolves and fish species. In an area of approx. 4 hectares are found only 6 copies of aurochs, two males and 4 females that are housed in a tour. The rest, up to 28 animals are in the park that stretches on a surrounded area of 180 hectares of land.