The memorial house Vasile Conta from Ghindaoani – Neamt County
24 September 2009
No Comment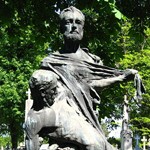 Address: village Ghindaoani, village. Baltatesti, Neamt County
Founded: 1993
Category: Memorial House
The visiting program:
daily: 9-17 (October – March);
10-18 (April – September)
Monday: closed
Short description:
Vasile Conta was born in 1845 in the village Ghindaoani. He attends the Faculty of Law in Iasi and in 1872 he obtained a PhD in Law from the University of Brussels. Through its work, Vasile Conta was the first philosopher that succeeded to establish an original philosophical system of his own.
The creation of Vasile Conta represents an important moment in the Romanian philosophy which he manages to bring it back on the European scientific arena, after the works of Dimitrie Cantemir and Nicolae Balcescu. Leading figure of the Romanian culture, Vasile Conta was also professor at the University of Iasi, deputy and minister of public instruction but also a promoter of evolutionary ideas.
The house from Ghindaoani, where Vasile Conta was born, was opened as a memorial museum and contains elements of local history, elements from the life of Vasile Conta and folk materials from that area.