Neamt County – General description – Romania online
14 October 2009
No Comment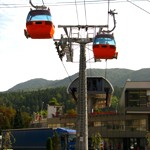 Neamt County is located in the central-east part of the Romania and its neighbors are Suceava County on the north, Harghita on the west, Bacau on the south and Iasi and Vaslui on the east. The county covers a surface of 5,896 square km and has a variation of natural relief with heights between 1907 m (the Ocolasu Mare peek) and 169 m (the Siret plane).
Access ways:
Road access
– from the west side on the route DN 12 C through Gheorghieni – pasul Bicaz – Lacul Rosu – Cheile Bicazului
– from Transilvania on the route DN 15 through Toplita – Borsec – the step Tulghes – Valea Bistricioarei –Bicaz.
– the routhe through the Mestecanis step – Campulung Moldovenesc – Gura Humorului – Valea Moldovei – Falticeni – Vadul Moldovei – Boroaia – Targu Neamt
– from the east side on the European road E 85 up to Cristesti  and from here on the DN 15 B Cristesti-Poiana Largului – Targu Neamt
– the route through Bacau – the inferior sector of Valea Bistritei – Piatra Neamt.
– from the south side on the route DN 15 through Bacau – Buhusi – Roznov – Piatra Neamt – Bicaz – Poiana Largului.
– on the route DN 2 through Bacau – Roman – Pascani
– on the route DJ 15D through Piatra Neamt – Roman – Vaslui
– on the route DJ 17B through Poiana Largului – Vatra Dornei
Train access
– the access through the railway is made from Bacau or Pascani
– the trains that leave from Targu Neamt are linked to the railway Bucuresti-Suceava, through the railway Targu Neamt – Pascani
– the city of Roman si crossed by the railway Bucuresti – Dornesti – Cernauti – Varsovia
Arial access
– the International Airport from Bacau – it has regular flights to Italy (Bologna, Milan, Rome, Turin), Bucuresti and Timisoara.
– the International Airport Iasi – it has regular flights to Vienna, Budapest, Bucuresti, Constanta and Timisoara
– the Airport Salcea – Suceava (located at 65 km from Targu Neamt) – it has regular flights to Bucuresti and Timisoara
Google Map Location of the Neamt County

Touristic attractions from the Neamt County
In the land of the Neamt County you can find the oldest monasteries from Moldova – Romania, which are true centers for the medieval culture, hermitages and churches.
Natural parks and reservations represented by the Mountain Ceahlau – which is considered to be the second mountain of the orthodox after the Athos Mountain – Cheile Bicazului – formed by massive rocks – the aurochs reservation and reservations of Carpathian fauna and flora with trees of hundreds of years old.
Strongholds and boyar houses which stand as proof to the greatness of the Neamt County, like the Neamt Stronghold.
Museums and memorial houses that present art collections, ethnographic, history and archeology, documents and photos that belonged to important people from the Romanian culture.
The Cable Railway from Piatra Neamt and the Touristic Complex "Peste Vale"
Treatment and entertainment resorts with recognized mineral waters that have important effects on stress, rheumatic pain, etc.