The Serbesti Rock – Neamt County
26 October 2009
No Comment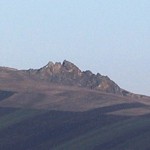 Location: The Serbesti Rock is located at approximately 17 km NE from the city Piatra Neamt, in the village Stefan cel Mare.
Short description
The Rock with a human shape from Serbesti – Neamt County is a natural geological reservation. It represents a point where it can be found traces of plants and jellyfish. With an altitude of 512 m, the rock dominates the Cracau plane and it represents an important point to understand the geological shapes present in this area.
The Rock from Serbesti its been declared a natural monument. The touristic attraction for this rock is represented by the shape of human face that can be seen from far away. From up close the entire rock formation gives the impression of a sleeping giant.