The Flora from the Tarcau Mountains – Neamt County
23 November 2009
No Comment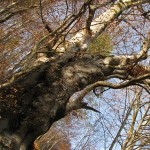 The Tarcau Mountains are in a proportion of 90% formed by spruce and beech forest. These two form two floors of vegetation. The first one is based on spruce forest that is massive, thick and dark. The second floor is made out of beech and covers less surface. The beech forest is much lighter and a little more cheerful than the spruce forest. Here we can also encounter trees like: maple, elm and the hazelnut tree.
The herbaceous vegetation is formed by circular planes and above 1400 m we can see a grass called spiky. At over 1,900 m we meet grasslands dominated by the horns, and to the limit of the forest we can see clusters of Mountain Pine, juniper, Smirdar, blueberry and cranberry. Here we can also see the tree called aurochs – a protected tree. Meadows located in the lower part of the forest area are dominated by avascior, golden avaz and meadow fescue.
The flowers that are present in these parts are: Omagua, the bell, the blue aster, the sweet pea, the carnation, the brave's cross, the honey bear and larch. The medicinal plants from this area are:  arnica, bilberry, yarrow, chamomile and species of fungi: Boletus edulis, galbiorul, Rascov, hulubitele, ghebele or opinticii. Rare species found in these forests are examples of yew, and blood of the brave.
An important role in the flora of the Tarcau Mountains is played by the reservation Gosman, that is located at an altitude of 700-1300 m on the left side of the river Gosman in the commune Tarcau. Here we can see some old trees, of 140 – 260 years, like spruce, fir and beech .



Photo Album
Click the images for a a larger version