The opening of Negulesti balneal Resort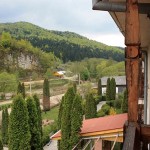 Neamt County Council re-opened Negulesti Balneal Resort on June 19, 2010. At the event were present representatives of the local authorities, private investors and a synod of priests. A special religious service was organized to mark the opening of the resort.
Negulesti Balneal Resort is located in Piatra Soimului commune, at approximately 25 km of Piatra Neamt and was taken by Neamt Turism Company that was founded by Neamt County Council and Piatra Soimului Town Hall. Lately Neamt County Council and the local authorities from Piatra Soimului invested in the rehabilitation of the resort. The investments made here targeted the kitchens, bathrooms, the reception, the restaurant and the bar. The resort has its own heating system and laundry.
After 14 years, during which the resort was close, the local authorities managed to re-open Negulesti Resort but the great balneal potential of the waters from this region it's not yet exploited. Negulesti Resort is well known in Romania for the benefits and the qualities of its waters.
The treatment buildings have 15 bathtubs, a medical pool, 4 medical cabinets and a gym. All these facilities are still waiting to be rehabilitated and re-opened.
The managers of the resort want to partner with a private investor in order to fully restore Negulesti Resort and to re-include it in the balneal touristic circuit.
For now Negulesti Resort has an accommodation possibility for 118 persons, in single, double and triple rooms or apartments with two or five places. The restaurant has a capacity of over 100 persons.