3 Of the most visited attractions from Targu Neamt area
27 August 2010
No Comment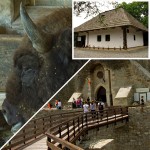 Come and visit Neamt County and you'll find a special place, full of history and traditions. Such a place from Neamt County is Targu Neamt area. The town of Targu Neamt is considered to be one of the oldest from Moldova. In this location you can see 3 of the most visited attractions from Neamt County.
These attractions offer not only a pleasant way to spend the time but also interesting information about the history of this place, about the fauna of the forests from Neamt County and about the stories full of funny moments presented by our greatest story teller Ion Creanga. We are talking about Neamt Stronghold, Ion Creanga Memorial House and "Dragos Voda" Aurochs Reservation.
Neamt Stronghold is located on Culmea Plaiesului Hill and was built by ruler Petru Musat in XIV century. The location is brought to life by thousands of tourists that come to see this place every year. This historic monument that watches over the entire Ozana Valley was rehabilitated from 2009 when the old ruins of the stronghold were transformed in a true touristic attraction. Tourists can see how the old chambers of the stronghold looked. The old church St Nicolae, the kitchen, the bedrooms or the terrace are only few of the hot spots that you can visit here. View photos of Neamt Stronghold.
Ion Creanga Memorial House is a typical traditional Moldavian house and the place where tourists come to discover the humorous atmosphere from the stories of Ion Creanga. Here in this small traditional house every visitor tries to spot all the objects that are mentioned in the stories of Ion Creanga … and be sure that everything is there. Visit this local attraction for a traditional touristic experience. View photos of Ion Creanga Memorial House.
"Dragos Voda" Aurochs Reservation and Carpathian Fauna is located near Neamt Monastery and is the place where you can come face to face with the former king of the Neamt forests: the Moldavian Bison – Aurochs. Tourists can admire only 6 of the 28 aurochs that live here (the rest are into the forests from Vanatori Natural Park). In this touristic attraction you can also see and other animals such as: the bear, the wolf, the boar or different species of deer. Visit this place and admire the mighty aurochs.

Images from the "Dragos Voda" Aurochs Reservation from Neamt County