"Adormirea Maicii Domnului" Church from Agapia Monastery
29 October 2010
No Comment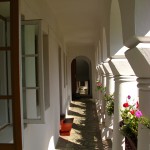 "Adormirea Maicii Domnului" means "The Death of St Mary Mother of Jesus". This church from Agapia Monastery represents the secondary church of the monastery. The building is located a few meters away from the monastery, outside its walls, among the houses that belong to the nuns.
With a beautiful architecture, the wooden church was built with three towers each with an octagonal shape. We don't know exactly when this church was built but the historians are placing the "birth" of this religious settlement either in the XVIII century or in the early XIX century when Agapia Monastery became a monastery of nuns.
"Adormirea Maicii Domnului" Church was built as a necessity, because the main church of the monastery became too small for all the nuns. Over time this wooden church was restored several times. The most important restoration took place in 1885.
The interior of the church was painted in 1946 by the painter Constantin Negrescu from Roman, on the expense of Bishop Irineu Mihalcescu. A new restoration took place in 1981 when the roof was repaired and the interior paintings were "washed" of their smoke spots. Vartolomeu Florea, from Sihastria Monastery, painted the iconostasis.
Today, "Adormirea Maicii Domnului" Church from Agapia Monastery sits quietly among the houses full of flower and waits for pilgrims to visit it and also to say a prayer.