The Ethnography Museum from Borca commune – Neamt County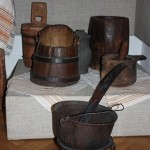 The Ethnography Museum from Borca commune was opened for public in March 2011 inside the "Mihail Sadoveanu" School. The people responsible for opening this museum are professors Daniel Calu, Dumitrina Iosub, Cristina Marcoci and Dumitru Balacianu that have managed to create a collection of objects that represent our traditions, our customs and the history of people living in these parts.
Although at first the objects from the collection were exposed in a corner of a room and then on the hallway of the school, in time the number of objects grew so it was necessary that the collection to be exhibited in its own room. Here the tourist can admire treasures from the past of this community.
This museum is also the place where children and young people from Borca commune can witness traditions and customs of our ancestors, things that we should never forget.
The objects exposed in the museum are characteristic to this region. Among it you'll see weaves, traditional clothing elements, traditional furniture pieces, clothes that people were at the daily jobs or at weddings, objects made out of wood used inside houses on a daily basis, ceramics and carpets.
The Ethnography Museum from Borca commune, Neamt County is a place where time stands still, where true values of Romanian people wait for us to visit and treasure.