Pilgrim to hermitages that belong to Sihastria Monastery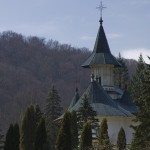 In Neamt County pilgrims and tourists will visit some of the most well known monasteries from Moldova region and Romania. One of these monasteries is Sihastria Monastery, an important religious settlement from the medieval era.
Sihastria Monastery is located in a place that impresses the pilgrim by the natural beauty of nature and the surrounding forest. This is also the place where some of the most well known monks lived and prayed: Father Ilie Cleopa, Father Paisie Olaru, Father Irineu Protcenco and Father Ioanichie Balan.
The monastery administrates four hermitages in Neamt County and several others in other counties. Pilgrims can visit these hermitages that were built in places where many monks have lived, prayed and eventually died.
Sihla Hermitage is located at about 8 km from Sihastria Monastery and the access is made on a dirt road. The church of the hermitage was made from wood in a classic architectural style with one tower. The small interior is divided between the altar and the nave. In 1763, above the hermitage, under a big block of stone was build a small church made with the wood from one single pine tree. Near the hermitage pilgrims and tourists can also visit St Teodora's Cave, which is also the reason for which Sihla Hermitage exists.
Daniil Sihastrul Hermitage is located at about 2 km from Sihla Hermitage, near a big gap called "Rapa lui Coroi". The hermitage can be accessed only by foot. That is why the construction of the church and the few buildings was made with the help of people that carried construction materials on their back.
"Poiana lui Ioan" Hermitage is located at 3 km from Sihastria Monastery in a plane where a monk by his name Ioan lived and prayed in the XVII century. The hermitage was built at the request of Father Paisie Olaru. The dirt road that goes to the hermitage is called "The Road of the Cross" and depicts images from the last days on Earth of Jesus.
"St Mina" Hermitage from Targu Neamt dates from 1933. The present day church of the hermitage was built after 1990 together with new cellars, a small chapel made out of brick and few other small buildings. In 2003 the monks began building a new church dedicated to "St Pantelimon the Healer".
In the last years Sihastria Monastery, together with its hermitages became more and more visited by pilgrims and tourists in search of moments of peace or historical and architectural wonders.