Autumn environments in Izvorul Muntelui
22 November 2012
No Comment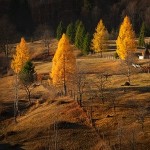 The most well known access point into Ceahlau Mountain and the most visited one is Izovrul Muntelui. From here some of the most well known touristic routes start and go up the mountain. Here is also the place where Ceahlau shows to its visitors its unmistakable silhouette.
Those that want to admire the beauty of the mountain can do so from Izvorul Muntelui. From here you'll see famous rock formations like Budu's Tower, Vanturisu Peak, Detunatele Rocks, Toaca Peak, Ocolasul Mare Peak and Panaghia Stone.
The clear blue sky and the warm sun rays will invite you for a walk in the surrounding forests. No matter the route you'll chose to climb the mountain you'll reach Dochia Chalet and you'll also have the chance of admiring the beauty of this place.

Autumn at Izvorul Muntelui 2012, Neamt County