Touristic routes in Vanatori Natural Park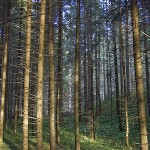 Vanatori Natural Park is partially located between creeks Neamt and Cracau and hosts along with its important natural reservations, historic settlements. Here, tourists can visit the famous Neamt Stronghold, monasteries like Agapia, Varatec, Agapia Veche, Horaita, Neamt, Secu, Sihastria, hermitages like Sihla, Icoana Veche, Icoana Noua, Pocrov or Daniil Sihastrul and memorial houses like Mihail Sadoveanu, Ion Creanga, Alexandru Vlahuta or Veronica Micle.
Inside the park there are natural reservations like the the Copper Forest, the Silver Forest, Dumbrava Oak Reservation and the Bison Reservation "Dragos Voda".

Routes in Vanatori Natural Park, Neamt County
The marked routes from Vanatori Natural Parks are as follows:
Marking: blue dot with white border
Route: Sihla Hermitage – Ciungi Plane – Varatec Monastery
Duration: 4 hours
Marking: red dot with white border
Route: Secu Monastery – Agapia Veche Monastery
Duration: 1 – 1 1/2 hours
Marking: blue triangle with white border
Route: Sihla Hermitage – Agapia Monastery
Duration: 2 hours
Marking: red cross with white border
Route: Agapia Veche Monastery – Sihla Hermitage
Duration: 2 – 2 1/2 hours
Marking: blue cross with white border
Route: Sihla Hermitage – Sihastria Monastery
Duration: 1 – 1 1/2 hours
Marking: yellow cross with white border
Route: Neamt Monastery – Pocrov Hermitage – Leghin Village
Duration: 2 – 2 1/2 hours
Marking: white rectangle with red vertical line
Route: Neamt Stronghold – "Vanatorii de munte" Monument
Duration: 1 hour
Marking: red triangle with white border
Route: Neamt Stronghold – Oglinzi
Duration: 1 hour
Marking: red triangle with white border
Route: St Teodora from Sihla Cave – Daniil Sihastru Hermitage – Mitocu Balan Village
Duration: 1 hour