Bicaz Gorge – a place of relaxation and hiking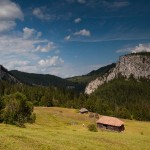 From the many touristic attractions from Neamt County we recommend you to take a trip to Bicaz Gorge. The area represents a magnet for tourists that come here year after year to see this incredible place. Bicaz Gorge is more than just a twisted road through massive stone walls. Behind the rocks there are numerous routes that take you up the stone walls or through alpine planes.
Bicaz Gorge is a famous place in Romania mainly because of the impressive height of the rocks. The area is part of Cheile Bicazului – Hasmas National Park, located on the surface of counties Neamt and Harghita. The natural reservations from this area are Bicaz Gorge, the Red Lake, Sugau Gorge, Licaz Aven, "Hasmasul Mare – Piatra Singuratica" massive and "Hasmasul Negru".
There are 18 marked touristic routes that go through the entire area. As a tourist you can enjoy the fresh air, walk the forest trails or hike on one of the marked touristic routes to explore the place.

Bicaz Gorge – summer touristic destination