Pilgrimage at St Iosif from Varatec Monastery
27 August 2013
No Comment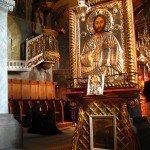 This year at the celebration of Varatec Monastery the holy relics of St Iosif was exhibited to believers during the religious service. St Iosif is well known in the area as the Hermit and he lived in the forests near Varatec for over 30 years.
The saint was born around 1750 in Valea Jidanului village from Transilvania region and later he moved to Moldova. He first entered as a monk at Neamt Monastery and then moved to Pocrov Hermitage. The following years were spent in forests near Sihla Monastery, in solitude and prayers. Near Varatec Monastery there is a touristic route that leads to the creek of St Iosif.
After the year 1785 he was the one that works to organize the monastery from Varatec and he was also the first priest of this religious settlement. He died on December 28 1828 and he was buried inside the church from Varatec Monsatery. The holy relics of St Iosif can be seen inside the church of Varatec Monastery where Orthodox believers come to pray.