"Bogoslov" Church from the graveyard of Neamt Monastery
16 January 2014
No Comment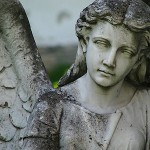 "Bogoslov" Church from the graveyard of Neamt Monastery was built on the place of an old hermitage. This religious settlement was built in stone and brick between 1834 and 1835 during the abbots Dometian and Neonil. The church can be visited and is located outside the walls of Neamt Monastery. In front of the church there is a bell tower of small dimensions.
The church is built in a classic cross shape with a spacious interior with large windows to let the light in. the basement has 8 small windows and semi-oval wholes where they put bones of the monks.
Over time here were discovered a series of religious objects that belonged to the monks that lived in the monastery. According to tradition, after 7 years, the bones of the deceased monk were taken out of the earth and placed here, in this basement. On his skull they wrote his name and what were his duties in the monastery.
In this basement are the remains of some bishops like Iustin Handoca, Marchian Folescu, Iosif Rascanul and Teodosie Athanasiu. In total, there are about 526 skulls here, among which there is the skull of young Calipso remembered in the lyrics of the poet Puskin or in the writings of C. Negruzzi.
Over time a series of restoration works took place. In 1986 the roof of the church was remade, in 2002 the church was consolidated and paved with marble and between 1999 and 2003 the interior painting was made.