Culinary delights from Neamt County
29 January 2015
No Comment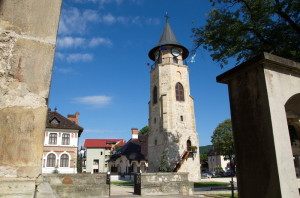 Neamt County is rich in places full of history, spirituality and natural beauty that represent tourist attractions that visitors from home or abroad can discover. It also has an appreciated culinary potential, characteristic to Moldavia, consisting in traditional delicious food and drinks that are served in any season. In order that the products offered to be natural and eco-friendly, the trout breeders, inns, hostels from our region obtain the products that compose their own menus in their micro farms. We also have a generous nature and you can often find in the recipes the mushrooms, the wild berries as well as the hunting.
Let's talk about the specialties that are similar in all units on trails that litter our county: peasant borscht with meat and vegetables and boletus soup dishes whose taste is enriched by souring with little borscht, specific Moldavian. Meat balls or minced meat croquette, mock goose cooked, zucchini stuffed with meat or curd, boletus or other forest mushrooms stew, jelly pork or other dishes that are served with cheese and baked polenta or simple grilled polenta.
A particular dish is the 'Harzob' (smoked trout wrapped in pine needles): the fish is made in a warm smoke of beech wood or plum-tree wood, then cooled in fir-tree branches. Novel, for some, is also the presentation and preservation of 'Harzob': fir branches are placed in two oval or round forms, and then are fixed with tie strings or strips of bark. Between the two forms they place the trout and then they "cart" them together. The tourists that stop at the trout breeders in the area can enjoy a grilled trout, captured in their presence.
At the herd shelters opened during the summer, you can eat different varieties of cheese, dishes with cheese cooked in different ways or mutton meat binding near a hot polenta.
Traditional holiday dishes include stuffed cabbage rolls with minced meat (known in Romania as "sarmale"), pork jelly, noodles, chicken at Christmas and red painted eggs and fried lamb at Easter.
The holiday table is usually decorated with baked items, such as pastries, cakes, rolls, and buns, with a variety of fillings (cheese, fruit, vegetables, walnuts, etc.), known in Romania as "cozonac", "pască", or "poale-n brâu". Skilled cooks know how to make jam from horns, shock, bitter cherries, walnut or rose syrup or raspberry tree buds syrup.
Strong drinks such as plum brandy, raspberries brandy, wild cherries brandy are produced using traditional methods.
So, dear visitors do not miss the opportunity to visit Neamt County and to enjoy the tastes and flavors of traditional cuisine.