Days "Ion Creangă", the Fourty-Five Edition (13 – 15 December)
20 January 2015
No Comment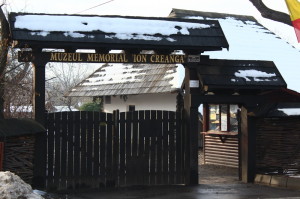 The official opening took place on Friday, December 12th, at the Memorial Museum "Ion Creanga" in Humulești. On the same day, at the Museum of History and Ethnography, took place the opening of the temporary exhibition "Photo-documentaries Relating to Ion Creangă", "Ion Creangă – Symposium – 120 years of immortality ", and a presentation of the book "Ion Creangă – Pieces of  Work", Edition works-cared for by academician Eugen Simion. Theatre lovers were guests on the track "OOO!…", submitted to Youth Theater (Teatrul Tineretului) Piatra Neamț and at Culture House "Ion Creangă", with free admission. The Conference room has hosted the Symposium "Perception of Ion Creangă's Work".  In the evening, from 6:00 pm, music lovers have watched critically acclaimed National Opera House in Iași, titled "Winter in Opera Harmonies".
Saturday, December 13th, it was performed at the "Saint Nicholas" Church of Humulești, a religious service of remembrance for the writer Ion Creangă, followed by a concert of Christmas carols. In the afternoon, at "Ion Creangă" Salon of the House of Culture, took place the launch of the book, "The Diary of an Asceze, Names and Faces, Dialogues at Agapia, God reads from the book of life", by Gheorghe Simon; the painting exhibition "Gladsome Light" by Gigel Bârliba, graphic exhibition "Situations" of Daniel Movilă, and photo contest exhibition "Childhood- A Huge Need of Wonder", organized by the Juniors Cultural Foundation, "Ion Creanga". The Foundation gave the evening a reverential Concert, celebrating 20 years of activity.
With the participation of pupils from the Children Club and from Ion Creangă Technical College and the volunteers from Puzzle OptimEast on Sunday, December 14th, took place at the House of Culture the awarding premiere of the participants of the "Contest of essays and photography" and later, "Carnival Characters of Creangă". Note that, this year, "Ion Creanga" Days were organized by the Cultural Foundation "Ion Creangă", in partnership with Târgu Neamț City Hall, Neamț County Museum complex, Neamț County Council, the Cultural Scientific Foundation "Constantin Matasă" and House of Culture "Ion Creanga" of Târgu Neamț.