"Eminescu and his time" – 143 years since the poet birth – evocation at the Library GT Kirileanu Piatra Neamt
23 February 2015
No Comment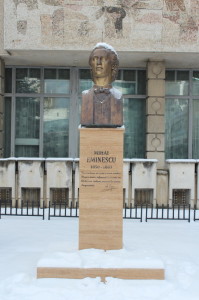 Hall "Victor Brauner" of GT Kirileanu Library in Piatra Neamt, was overcrowded Friday, January 13th , 2015, at the event "Eminescu and his time – 143 years since the birth of the poet".
From 17.15 hours in the presence of a large and informed audience, gathered with an hour earlier, which included among many writers from Neamt or other parts of the country, talked about Eminescu`s less known poetry, the beauty of Romanian language, about poet's life and work.
It was an evening dedicated to poetry of Eminescu, an unforgettable evening of which the artistic atmosphere was complemented by commendable participation of a students group of the Victor Brauner Art School.