Skiing track-ski slope on the hill Cozla in Piatra-Neamţ
19 February 2015
No Comment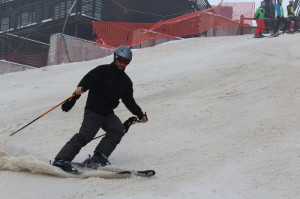 The skiing track-ski slope (965 meters lenght, the maximum level difference of approximately 260 meters, minimum width 20 meters), along with the tubing and snowboarding tracks (which have approximately the same technical data) are part of the Recreation Complex on the hill Cozla, the main point of attraction during winter for the locals and for tourists visiting our city.
Access by car to the tracks is not difficult. Once you've arrieved on the street Stefan cel Mare, gloss over Zoo park, on the Ion Creanga street, towards Colibele Haiducilor (Shanties of the Rightist Outlaws). The road climbs up to the Terasa Gospodinelor (Housewives Porch), then is heading up to the mountain in the streamers-serpentines, winding to the slopes. Routing times from the center of the city is 10-15 minutes. The gondola lift is glinding from the Train station-its starting point, over the treetops, in approximately 6-7 minutes the full distance to its final destination, the top of the hill Cozla. On the walking route, there are two ways: running on the road starting on Stefan cel Mare Street, or starting from Darmanesti, through Obor-Kaufland-The Ortodox Church, climbing the newly built stairs leading the skiing track and the chairlift.
Beginners can receive assistance from the skiing and snowboard instructors. Besides sledging, if you like speed, you can practice tubing with O-rings or floats (5 ron 2 ascents), sport that recently became very popular for the young people eager for thrills.
The ski slopes is served by a chairlift with the departure station – Dărmăneşti, cannons of snow and nocturne.
The opening hours for the chairlift is from Monday to Thursday from 11.00 a.m – 05.00 p.m., and from Friday to Sunday – 11.00 a.m. – 08.00 p.m.
The opening hours for the gondola is: on Monday from 12.00 a.m. – to 10.00 p.m.; from Tuesday – to Thursday – 10.00 a.m. -10.00 p.m.; from Friday – Sunday from 09.30 a.m. –to 11.00 p.m.
The rental centers are positioned on the base of the track, and there you can buy cards access.
Tariffs and prices:
For the Chairlift: adults – 7 ron, children – 5 ron;
Skipass all day long – 80 ron; skipass half of day – in the morning – 50 ron, skipass in the afternoon and nocturne – 50 ron;
Subscription from Monday – to Friday -140 ron;
Subscription at the Skiing School, from Monday to Friday – 100 ron;
Children until 12 years old, accompanied by an adult that has a skipass, will have a 50% fee reduction , on the same skipass as the adult;
The skipasses include unlimited travels by gondola and unlimited chairlifts;
The prices for renting the complete equipment (skis, ski boots, sticks, snowboard) adults: starting from 29 ron.
We look forward to see you at the winter amusements 2015.