The Race of Roman City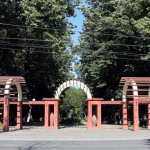 Friday, May 15th, during the event Days of Roman City, was organized The Race of Roman City.
Since the morning, the competition brought together at the start of Roman high school students who competed in relay race on mixed teams, 4 × 900 meters. As in previous editions, with better preparation, the relay team of the Sports High School won the contest.
On the podium also were, in order, teams of Petru Poni Technical College, second place and Vasile Sav School Group, the third place, the team of Roman Voda National College receiving a worthy mention.