Cuejdel Lake from Neamț County
7 December 2017
No Comment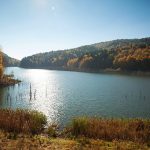 Cuejdel Lake
Located in the central area of the county, it is the largest naturally dammed lake in the country – i.e. area – 12.2 hectares, length – 1 km, average width – 102 m, and average depth – 7.44 m. It was formed at the foot of Culmea Muncelu, following sizeable successive landslides that affected the left bank of the Cuejdel Valley, between 1978 and 1991. The causes behind these landslides were mainly natural such as the high gradient of the slopes and their lithology, heavy rainfall and the 1990 earthquake.
In 2004, it was declared a natural reservation as a specific microclimate and lacustrine-environment wildlife developed here. It goes without saying that the scenery is spectacular and novel for this forested area, as the water surface is pierced by hundreds of tree trunks rising up to the sky from the flooded valley.
Visitors can reach the area by car, passing through the commune Crăcăoani on a forestry road, or passing through the commune Gârcina, a 25 km long journey from Piatra-Neamţ, and then 3 km on foot, on a wide path, through pastures and a deciduous and coniferous forest.
Photo Album
Video