The touristic complex called Peste Vale (in translation Over the Valley)
24 September 2009
No Comment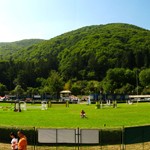 The Touristic Complex Peste Vale is located at the base of mountain Cernegura, on the right side of the river Bistrita. The entire area suffered a modernization process and now hosts one of the most modern public swimming pools in the country. The investment belongs to the Local Council and now it attracts tourists from all the nearby counties. Here you can find two swimming pools, an Olympic one and another one for kids, green spaces, accommodation, sport courts for tennis, football, basketball and volley. There are also areas for roller skaters and skateboarders. The last addition to the complex is a VIP area with separate swimming pools and top quality services.
These days, the entire complex offers a complete package for tourists: accommodation, sport courts, playgrounds for kids, swimming pools, beach and camping, barbeque area, etc. These are only few of the features presented in the complex and this is why here is one of the most modern public swimming pools in the country.
Besides all those mentioned above, the kids have the chance to ride two ponies and for those that want some more excitement the equestrian base offers training classes for ridding on mature horses. During the summer you can also take part in walks with horses on mountain routes. Also, for kids there is a summer school for handcraftsmanship that teaches traditional art.
From 2009 there is also a VIP area that offers total intimacy to tourists.
Together with the cable railway, the touristic complex from Peste Vale attracts thousands of tourists from the nearby counties and from other countries: Italy, Germany, Spain, and Austria.