Via Mariae – Neamț County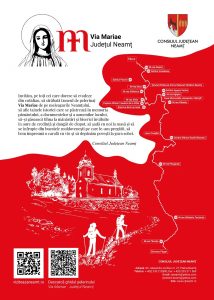 Pilgrim routes in Neamț
"Via Mariae" now crosses through Neamţ County
Via Mariae pilgrimage route (also named "Mary's Way") is a spiritual tourist path rooted in the veneration of St. Mary by the nations of Central and Eastern Europe, but it also connects the shrines of Mary, without interfering with any historical, cultural, or religious differences. Also called the "Road of Reconciliation", it is a bridge between nations, religions, cultures, and people worldwide.
The route dedicated to honoring the Holy Virgin now stretches across the Neamț County, where monasteries and churches hidden in the thick forests, scattered in quiet clearings and in the beautiful valleys, await you to cross their thresholds.
Via Mariae draws a large cross on the map of Central Europe -going through Austria, Hungary, Romania, Slovakia, Poland, Croatia, and Bosnia- thus creating a network of pilgrimage routes based on local values. "Via Mariae – Neamț County" pilgrimage route is a segment of the European pilgrimage route VIA MARIAE. The extension of the route in Neamţ was possible due to the joint efforts of Neamț County Council, the Metropolis of Moldavia and Bukovina, Neamț Forestry Service, Vânători-Neamț Natural Park Administration Centre, the local councils of Vânători-Neamț, Pipirig, Agapia, Crăcăoani, Gârcina, Pângărați, and Tarcău communes, "Eco Travel" Association, at the initiative of  "Via Mariae" Association from Harghita County
We invite all those who want to escape the hustle and bustle of life to travel the Via Mariae pilgrimage route on the territory of Neamț County, to discover the secrets of history well preserved in the memory of the land, of chronicles and people of the area, to find peace at monasteries and churches shrouded in the aura of faith and tolling of bells, to sit with us around the table and taste delicious Moldavian dishes we have dearly prepared, to drink some wine together and tell stories old and new, by the fireplace.
Dare to take the road less traveled and to become pilgrims, even for a few days, to visit holy places full of spiritual, cultural and historical meaning, to enjoy en-route adventures and stunning landscapes along the way!