Taste of Neamţ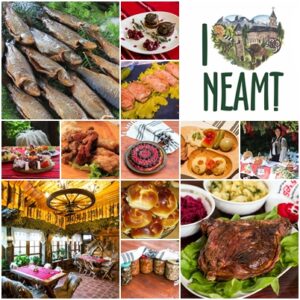 The cuisine in the historical region of Moldova is considered to be one of the tastiest in the world, both for the large number of popular dishes and for the many gourmet shades given by the inspired combination of produce, tools and some due to the Slavic or Greek influence.
So, we invite tourists to serve a boletus borsch, a pork stew and spiced cabbage pie, or scrambled eggs with finely chopped meat, mincemeat croquettes "sprinkled" with plum brandy with fenugreek. Moreover, we trust that visitors will appreciate the "hârzob" (trout smoked in fir branches), the monastic chicken, the pickled Saffron milk caps, and the cheese polenta or potato and onion pies called "guguluf". As for the dessert, tourists are invited to have some shepherd's pie, the famous "poale-n brâu" pies or a teaspoonful of raspberries, blueberries or roses confiture. In the Christmas season, housewives will offer the Moldavian pork stew and the "julfa", a delicatessen of fine pastry sheets stuffed with crushed hemp seeds, also known as "Jesus' Diapers".
Berries such as blueberries, cranberries, strawberries, raspberries, and blackberries are presented in the menus under various forms: confiture, sorbet, jams, in a diverse range of delicious cakes, side dish, juices, teas, syrups or the highly appreciated berry-brandy.
Acacia, lime tree, rape or poly floral honey completes the rich variety of produce, together with local herbs used for fragrant teas such as wild thyme, St John's Wort, cowslip, berries, acacia, elder, lime tree, mint, and many more.
Freshly gathered mushrooms or the fresh fish are on offer at guest houses. All sorts of preserved vegetables during autumn – such as prickled ones or "zacusca" appetisers, made according to many and varied recipes known only to the local housewives, make up diverse menus visitors can indulge themselves with as if they were attending a royal feast.
Each guest house in the Neamţ area has its own menu, carefully selected to please its guests. They are made with home-grown ingredients in the very garden of the guest house or in the households of the villages nearby.