Events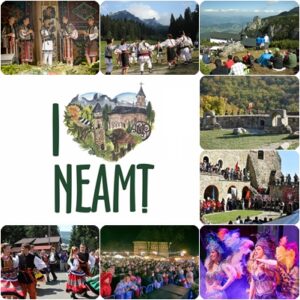 Here you can find a list of the major festivals and cultural and artistic events organized in Neamţ County throughout the year. Neamţ County hosts a spectacular array of music and cultural festivals, and also high adrenalin sports and exciting family entertainment, which we heartily invite you to explore.
Neamţ County, through its unique tourist attractions, and the surprising customs and traditions, is an important cultural hub and one of the most visited county in Romania. The many historical monuments and picturesque landscapes, as well as the diversity of flora and fauna, complete the rich heritage of the destination.
Renowned for its unspoiled natural environment, Neamţ County attracts a large number of visitors every year for a wide range of annual festivities celebrating traditional culture, music, good food, and fun filled events.
Whether it's winter or summer, Neamţ County features fantastic year round activities and events to attend. Celebrate the snow season by practicing winter sports in Durău Resort or enjoy climbing Ceahlău Massif, the Holy Mountain of Romanians, and delight yourself with a mesmerizing parade of traditional folk songs and dances from all over the world during Ceahlău Mountain Festival, in the summertime.
Whether you love the busy rush of the city or the tranquility out in the countryside, Neamţ County is the place to be!
– – –