Horseback riding
Piatra Neamţ, also called "the Gemstone of Moldavia", gives yo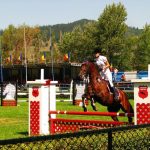 u numerous reasons for visiting it.  A main tourist attraction for horse lovers, "Col. Virgil Bărbuceanu" equestrian base has that "secret ingredient" which makes practitioners and supporters of equestrian sports eager to spend here not just one day, but many more, since here is one of the places where you can find quietness, and relaxation and can directly experiment the strong bond between man and horse.
"Col. Virgil Bărbuceanu" equestrian base in Piatra Neamţ was established in 1986 and is nowadays one of the most endowed horse-riding base in the country, hosting several stages of the World Cup of Jumping over Obstacles, as well as other several competitions of national interest.
In the equestrian center in Piatra Neamţ you can practice leisure riding on the established trails, horseback riding if you already possess equestrian knowledge and skills, day trips on Bâtca Doamnei – Bahrin route, carriage rides for pleasure as well as for special events, sleigh rides in winter, etc. The horses are also trained to participate in competitions. Dressage classes or training, horseback riding courses can also be organized.
Phone:  +40 745 228 639; +40 787 931 222
Facebook page: https://m.facebook.com/bazahipicapiatraneamt1
This tourist destination is part of the circuit: Piatra Neamț – Bălțătești- Tîrgu Neamț