Aero sport
Aero sport with AVIASPORT
We are convinced that flying is the most beautiful and interesting thing you can do. We created this club in order to better promote locally the idea that now anyone can fly just like birds. If you sometimes feel like you want to fly but you don't know how, now you can address us. We can fly together over these wonderful places where we live, but most of the time we don't see them. To get an idea, here are some photos that you can see.
Piatra Neamț is located near the wonderful mountains between which are most of the mountain lakes in the country. Flying here is truly a dream come true. After such a flight, you risk remembering it all your life and locking it there, in your soul, in a special place or wanting to always fly, all your life. Now you can become a licensed pilot more easily, because we organize flight courses and internships within our flight school.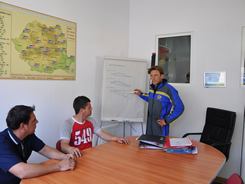 Now we benefit from the advantages offered by the existence of the first aerodrome in Neamț County.
The aerodrome is located in Girov, 12 km from Piatra Neamț. Over time we have improved the quality of the runway, now having a length of 500m, so any ultra-light aircraft can land on our field. The coordinates of the track are 46 57 N, 26 29 E.