Pilgrim Routes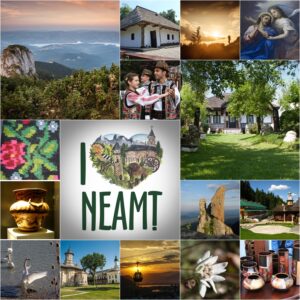 Pilgrim Routes and Itineraries in Neamț County
"Through traveling, as well as through music, one changes perspectives, mindsets and values, shapes oneself, emerges into a different person, thanks to the emotions one experiences, strengthens oneself through the hardships endured, enriches one's soul with wisdom and indescribable beauties."
                                                                                                                                 Dumitru Almaș
Neamț County is the sacred space of the ancient Dacians, with many legends and myths, with roots going back thousands of years, to the most brilliant prehistoric civilization in Europe, the Cucuteni–Trypillia Culture. Neamț is also the land with the largest number of monasteries and churches in the country, and 537 historical monuments having on display collections of great value. E.g, Neamț Monastery, also called the "Jerusalem of Romanian Orthodoxy" dates back to 1210 AD.
You will enjoy unique, unforgettable experiences every time, since Neamț County is like a well of wonders. At the end of the trip, the fascinating natural settings, the bounty of cultural and spiritual elements, the many legends, traditions and historical testimonies will be completed by your own perception about the destination, which will go beyond the five senses. Each traveller, depending of his or her own aesthetic beliefs, gets to experience these lands in a very personal way. To put it in other words, Neamţ is like a mirror: always the same, but whoever looks, sees something different.
Dare to take the road less traveled and to become pilgrims, even for a few days, to visit holy places full of spiritual, cultural and historical meaning, to enjoy en-route adventures and stunning landscapes along the way!