The touristic complex Cozla from Neamt County
24 September 2009
No Comment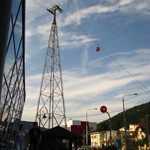 The touristic complex is organized on the mountain Cozla, in the north side of the town Piatra Neamt. The access to this area is made either by foot, starting from the str. Stefan cel Mare on a paved road, or by using the cable railway that starts from the train station and which offers a great view of the entire city or, only in the winter, with the funicular from Darmanesti.
The Park Cozla is organized in successive terraces where you can find the restaurants Colibele Haiducilor (translation: The Outlaw's Hut) and Cercul Gospodinelor (translation: The Circle of the Housewife). At the base of the park you can also visit a small zoo with species from the local fauna and a few from far away parts of the globe, like the lion. On the way up there are several points where you can admire the city and the Bistrita Valley.
On the peak of the hill Cozla, you can find the arrival station for the cable railway, the slay slope and the starting point for the sky slope. In the last years the Local Council is making investments here to build a luxury hotel from where you'll be able to admire the entire area – a view to remember. The winter sports are well organized: there is also nocturne light and artificial snow machines, so that everyone to be happy. The next investment will be a rotating restaurant so that the tourists will benefit from a 360 panorama of the city.
For those that love mountain hiking the hill Cozla offers some really beautiful routes through the forest, under the shade of the trees.