The catholic church from Adjudeni "The Descent of the Holly Spirit" – Neamt County
26 October 2009
No Comment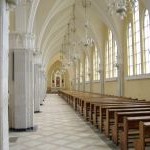 Address: village Tamaseni, Neamt County
Built: between 1972 and 18986 on the place of the stone church from 1875
Short description
The parochial center from Adjudeni took birth between 1762 and 1776. From then and until these days here, many churches were built. The first one was made out of wood in the year 1776 and the second one also made from wood was built in 1810. In the year 1875 the first church made out of stone was built here by Alfons Manfredi. This church was modified and rebuilt between 1927 and 1928.
The stone church existed untile 1972 – 1974 when around it a new monumental church was built. The construction works began at the initiave of the priest Gh Apostol and were continued by the priest Dumitru Adamut. The patron of the church is The Descent of the Holly Spirit and has a length of 68,3 m, width of 32 m and a height of 21,5 m. this is the biggest catholic church from Romania.
The first service was held here on June the 3rd 1990, on which occasion the priest Petru Gherghel said: "this church was built by the extraordinary effort of the people from this village under the heroic leadership of the priest Dumitru Adamut which died during the construction and the priests Stefan Apostol, Mihai Budau and Ioan Lucaci".
The church is a touristic destination mainly because of its impressive dimensions.