The Legend of Dochia Stone from Ceahlau Mountain
23 November 2009
No Comment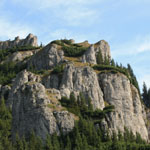 If you climb the mountain Ceahlau following the route bookmarked with blue triangle that starts at Izvorul Muntelui Chalet – Dochia Stone– Jgheabul cu Hotar and goes up to Dochia Chalet, you'll encounter a big and impressive rock called Dochia Stone. This is the stone with the biggest number of legends from the Ceahlau Mountain.
It seems that the name of the rock comes from the St Martira Evdokia. There is a legend that speaks about an old female shepherd that was dressed with many sheepskins. She climb the mountain with her sheep and on the way up, because of the warm, she threw her thick clothes. All of a sudden a nig cold wind started to blow that transformed the shepherd and her sheep into this rock formation. In our calendar this legend signifies the end of winter and the arrival of spring.
Another legend says that Dochia was the daughter of a Dac king. The Roman Emperor Traian was in love with her and he tried to steal her. The girl ran into the mountain where she stayed hidden. There, she prayed to the St Mary Mother of Christ to help her by turning her into a stone.
The writer Mihail Sadoveanu speaks about another legend, where a very old witch called Dochia lived on the mountain. One day she finds a small baby girl abandoned on the mountain that she will raise as her own daughter. Time passed and the girl grew up. Everything was fine until one spring when the girl heard the songs coming from the village. She left the mountain and never returned. Filled with grief Dochia searched for her daughter and once she understood that she will never come back she died of broken hart at the beginning of spring and the cold nights transformed her into stone.