The Legend of Ceahlau Mountain
23 November 2009
No Comment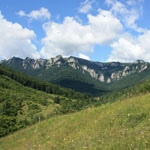 The mountain Ceahlau, the old mountain king from the Moldavian Carpathians, considered by the daci to be the home of their god Zamolxis, it is said that took birth because of the emperor Traian. After he conquered these places he ordered to all the slaves to build a big mountain that will protect them from savage armies. He placed a soldier on top of the mountain that was supposed to let the people know if they're under attack.
One day the soldier died by an enemy arrow and from that day there was no one to announce the people of any attacks. It is said that that was the moment when all the wars from this region started.
The Ceahlau Mountain is one the best known mountains from Romania. This place was mentioned by many writers because of its legends that talk about so many rocks from the mountain and because of its appearance as a watch point. The truth is that this mountain had a strategic importance because of its location and because of its height from where you could see if there were any armies approaching. Read about other legends from Ceahlau Massif!