The Legend of Polita cu Crini – The Lilies Stone from Ceahlau
23 November 2009
No Comment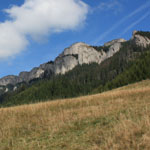 If you climb the mountain Ceahlau on the route bookmarked with blue line that starts at the Izvorul Muntelui Chalet – Curmatura Lutu Rosu and goes up to Dochia Chalet, you'll see at some point a plane that has a sign to know you're entering the reservation Polita cu Crini. The reservation is documented since 1941. This place, as many others from the mountain Ceahlau , has its own legends.
The first legend is about a monk that went into the mountains to pray and be closer to God. He stopped to this place called Polita cu Crini where he built a small shelter. In front of his house he had a small garden where he raises lilies. No one else had lilies in front of their houses untile then. One day, a group of shepherds came by there and where impressed of the beauty and the smell of the flowers. People say that starting from that moment we grow lilies in front of our houses: to have our sins forgotten and to enjoy the beauty of these flowers.
The second legend speaks about a clever hunter called Vasile that was married a wealthy girl. One day he told her about the beauty of a place called Polita cu Crini and about  a goat with her cub. His wife wanted the cub so much that Vasile had to go into the forest to bring it to her. Unfortunately when he tried to take it he fell into the gap.