The Memorial House I. I. Mironescu – Tazlau
28 December 2009
No Comment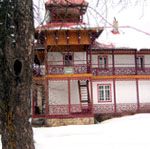 Address: commune Tazlau, Neamt County
Established: in the year 1969
Category: Memorial House
Visiting program:
daily: 9-17 (October – March);
10-18 (April – September)
Monday: close
Short description
The house where was born and lived the doctor and writer I. I. Mironescu from Tazlau, was established in the year 1969 as a museum with a permanent exhibition with the personal things, photos, books and furniture that belong to the writer. Although he never made a name of himself in literature, I. Mironescu was a member of the journal "Romanian Life".
Over time, the writer's sister, Lina Donea, organized in this house numerous cultural activities, such as the sessions of the Literary Circle. The museum was organized at the initiative of the writer's daughter, Rodica Mironescu, that managed to retrieve from relatives, photos, letters, books and other things that belong to her father. The exhibition is organized in two rooms where you can see a glimpse of the life from Tazlau, between the two world wars. One of the rooms represents the working room of the writer, with the original objects and the library, plus images from his medical activity.
He was a friend of George Toparceanu, Mihail Sadoveanu and Panait Istrati and he was appreciated as a friend, doctor and writer. The great writer Mihail Sadoveanu says something about I. Mironescu that is meant to better understand what kind of man he was: "His life wasn't at the University, or in practicing of an excellent medicine, in politics or literature, his life was in the village where he was born"