The Collection of Ethnography and Folk art from Bicazu Ardelean
31 January 2010
No Comment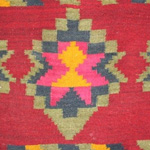 Address: village Telec, commune Bicazu Ardelean, Neamt County
Tel: The Town Hall from Bicazu Ardelean  – +(40) 233 255 301
Organized: by professor Barna Augustin Marcian
Category: Ethnography
This museum is located in the school building from the village Telec. The collection was put together by professor Barna Augustin Marcian and his wife Elena Barna. The objects represent an image of the customs and traditions from the Bicaz valley.
Among the objects exposed in the museum we can see textile designated for interior decoration, folk costumes and different objects used by locals to perform different tasks around the house. We can also see traditional masks used in winter traditions: the most common costume is "the goat". This costume is made from a carpet with different ornaments placed on top of it: small mirrors, braids and long strings of beads.
You can also see some of the basic forms of a traditional house from a mountain-village and a sheepfold formed by two rooms: one is where the cheese was made and another one is where the cauldron with mamamliga was. All the objects presented here, in this museum, represent the heritage of customs and traditions from this area that we have the obligation to at least remember it.