Martisor Festival from Piatra Neamt
24 February 2010
No Comment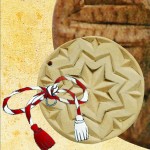 In Piatra Neamt, in the place called Curtea Domneasca (translated Royal Court) of Stefan cel Mare, between February 26 and 28, 2010 will take place the first edition of Martisor Festival where we would like to invite everyone that loves Romanian traditions. The traditional objects that we Romanians call Martisor are made by craftsmen from the entire area of Moldova and Romania. Together with the librarians from Bibliopolis and flower sellers we hope to create a complete and accurate image of what this tradition of Martisor means to us. The event is organized by the Cultural and Art Center "Carmen Saeculare" and its main purpose is to promote the creations of traditional craftsmen that play a big role in keeping our traditions and our way of living alive.
At the festival we'll find traditional Romanian objects, from Martisor made out of wood, ceramics and glass to greeting cards, figurines, weaves and jewelry all handmade. Among the craftsmen that will take part at the festival will be: Valentina Acasandrei, Violeta Radu, Adrian Silvestru, Kedves Attila, Maricel Apalaghiei, Maria si Ariadna Bodron,  Gabriel Corbia, Rodica Ciocirtau, Iulian Mihalachi, Cecilia Haisan, Maria Virga, Amalia Vlad and Nicolae Diaconu.
The official opening of Martisor Festival will happen Friday, February 26, 2010 at 12:00 o'clock and it will end Sunday, February 28, 2010 at 19:00 o'clock when we invite you at the Tineretului Theatre at the show called  "Dor cu Dor si Drag cu Drag" (Dor means to miss and Drag means to love. "Cu" you can directly translated as "with" and "si" as and). You'll see performances by the members of "Florile Ceahlaului", Maricica Andrei, Codruţa Avacaritei, Iuliana Candrea,  Alina Carnariu, Ana Dragu, Georgiana Axinte, the kids from Victor Brauner High School, the band "Stefan Voievod" and the panpipe instrumentals Adelina Chirila and Madalina Luca. Also at the festival you'll be able to meet with Dragobetele which is the symbol of love in Romania.
Mr Valentin Andrei from the Cultural and Art Center "Carmen Saeculare" from Neamt County, invites us at the Martisor Festival and he says that we will experience "a weekend full of Martisor that will bring good luck and joy in our hurts and souls".
NOTE: Martisor is a figurine that has two strings attached to it: one red and one white. It symbolizes the Spring and it brings good luck and joy and it's a gift that is given on March the 1st.