Local Artisans from Neamt County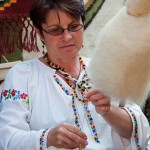 The local traditions and customs from Neamt County represent an eco over time of our roots. Here you'll find a cradle of our folkloric culture, where testimonials leaved by those that lived in these parts are present and real. The spirit of our culture is kept alive by the local artisans from Neamt County and ensures continuity of our traditions and customs.
Tourists that come to visit Neamt County can buy fabrics made out of cotton, national suits, objects for the daily use made of ceramics, wooden sculpted objects, New Year's Eve masks and ornaments.
Starting with 2010 the local artisans are organized in a Legal Association called "The Local Artisans Association from Neamt County".
Vasiliu Maria, from Targu Neamt, Neamt County, 0040 745 502 525
She creates ornaments made of cotton and manually crocheted.
Lungu Constantin, from Targu Neamt, Neamt County, 0040 742 999 506
He creates sticks, clubs and stuff used by shepherds and also traditional masks
Lungu Ionela, from Targu Neamt, Neamt County 0040 726 985 695
She creates funny characters from the stories of Ion Creanga. She made those figurines out of clay and then she paints on top and uses small pieces of leather to customize it
Grigoriu Stefan, from Targu Neamt, Neamt County, 0040 742 925 725
He creates traditional rustic furniture: spoons and in-house furniture
Dudanu Vasile, from Grumazesti, Neamt County, 0040 740 999 505
Together with his wife, the local artisan Vasile creates traditional caps, collars and vests
Neamtu Vasile, from Nemtisor, Neamt County, 0040 741 419 207
Together with his wife he creates wood furniture for outside uses, carved by using traditional methods
Maria and Iulian Mihalachi, from Baltatesti, Neamt County, 0040 724 365 313
These two local artisans create traditional fabrics with traditional geometric symbols
Rodica Ciocartau, from Pipirig, Neamt County, 0040 740 671 831
She creates fabrics made in a traditional style by using a loom
Ion Albu, from Timisesti, Neamt County, 0040 722 689 084
He creates traditional masks used in the night of New Year's Eve