Live reptiles exhibition at the Natural Science Museum from Roman
30 December 2011
No Comment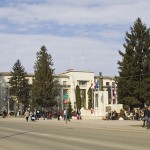 The Natural Science Museum from Roman will host until January 22 2012 an exhibition of live reptiles. The exhibition already was visited by over 1000 people that came to see some of the most spectacular reptiles from the world.
The temporary exhibition is from Bucharest and presents venomous reptiles like snakes, lizards, tarantulas and crocodiles. The enclosures are well secured so there is no danger to the visitors. The exhibition was visited by people of all ages, from children to couples, adults or grandparents with their nephews.
Starting with July 2011 the Natural Science Museum from Roman can be found in a new location inside the main park from Roman. Visitors that want to see the museum can do it from Monday to Friday from 09:00 to 18:00. The tickets cost 3 RON for children and 5 RON for adults.