The Festival of Customs and Traditions "Roman Metropolitan" – the second edition
28 December 2011
No Comment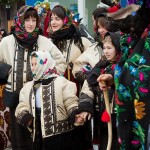 Thursday, December 29 2011 in Roman Musat Plaza from Roman will take place the Festival of Customs and Traditions "Roman Metropolitan", the second edition. The Association Roman Metropolitan invited to this festival traditional bands from the villages around Roman that will present a show with songs and dances specific to the winter period.
This festival has the same name as the association that organizes the event and promotes the traditions and customs from Roman and the surrounding areas. The people from Roman and tourists will have the opportunity to see our winter traditions and customs like The Horsemen, The Bears, The Star and The Goat.
The bands that will participate to the festival come from 20 villages around Roman: Ion Creanga, Tamasesti, Moldoveni, Faurei. Bara, Pancesti and Ruginoasa. The organizers of the Customs and Traditions Festival "Roman Metropolitan" invite you to come and witness Romanian winter traditions and customs from Roman area.