The Wood Church from Galu village, Poiana Teiului commune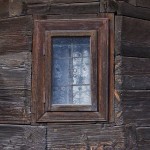 The wood church from Galu is located inside the cemetery of the village and has as its holly patron St Gheorghe. From an inscription above the entrance door we find that the church was built in 1918 but the Holy Gospel was a gift to the church in November 8, 1780. So there is more than one hypothesis on the date when the church was built.
From an architectural point the church was built in the shape of a cross with an open veranda and four wooden columns that guard the entrance. The walls are made of pine tree wood that come together in a "swallow tail" shape.
At the interior the church has the walls covered in pine tree boards. The interior is divided by an arch. The iconostasis is made out of wood and was created by the artisan Ion Zugravul in the characteristic style of the area Bistrita Valley.
The church is representative for the Moldavian architectural style but it also has influences from Ardeal region. The building represents a folkloric art monument that impresses the viewer with its architecture and the exclusive use of wood.