Touristic attractions in the area of Neamt Monastery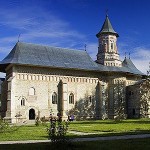 Neamt Monastery is the oldest religious settlement from Moldova region and it's also known as the "Jerusalem of the Romanian Orthodoxy" and also hosts the oldest library. Over time the monastery had a great contribution to the development of the Romanian culture and art in medieval times.
In the area of Neamt Monastery tourists can visit some interesting touristic attractions.
"Dragos Voda" Reservation of Aurochs and Carpathian Fauna is one of the most visited places from this area and is one of the largest reservations of aurochs from Europe. Along with some fine exemplars of aurochs you can also see deer, foxes, badgers, rabbits, a bear, wolfs and some other small animals.
The Memorial House Visarion Puiu – Mihail Sadoveanu Museum is located near Vovidenia Hermitage in the house built by Mitropolit Visarion Puiu. The exhibition hosts objects from that area that belonged to the writer Mihail Sadoveanu.


Carbuna Hermitage can be accessed from the road that starts across the street from "Dragos Voda" reservation. The hermitage was created in 2001 with the patron St "Stefan cel Mare" and it's located in the middle of an oak plantation, near the cemetery of World War II heroes.
Pocrov Hermitage was built in 1714 and it's located at about 4 km from Neamt Monastery in a plane at the foot of Chiriacu Mountain. The hermitage was also called The Heaven's plane because of the beauty of the place.
Icoana Nou Hermitage was created in 1941 and it's located in a place called the Valley of the Icon.
Braniste Hermitage is located at about 4 km from Neamt Monastery on the road that goes from Targu Neamt to Pipirig and was organized in 1582.