A new season at Tineretului Swimming Pool from Piatra Neamt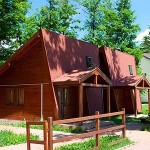 On June 1 2012 was the official opening of the Touristic Complex "Peste Vale". With this occasion took place a series of shows and fun activities for children. As in all the other years the town's public swimming pool becomes one of the most searched locations in Neamt County to take a bath or enjoy the sun rays.
The entrance costs 3 Ron/adult and 1 Ron/child. For pools and beach the entrance is from Monday to Friday 7 Ron/adult and 5 Ron/child and on Saturday and Sunday is 10 Ron/adult and 5 Ron/child. Cars can enter the complex for 1.5 Ron/hour.
There are three tennis courts with nocturne lights that can be rented at 20 Ron/hour, tennis rackets can be rented for 10 Ron/hour and balls for 5 Ron/hour. The volley and basketball fields can be rented at 50 Ron/hour. The football fields are available for 75 Ron/hour until 18:00 and 100 Ron/hour after 18:00.
We invite you to visit the Entertainment Complex "Peste Vale" and enjoy a cool bath in a hot day at one of the pools from Tineretului Swimming Pool Complex.