Winter customs and traditions in Neamt County
18 December 2012
No Comment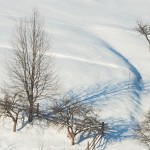 December is a month full of religious events, customs and local traditions specific to winter time and the passing of the years. In Neamt County these traditions are still kept alive and they mark not only Christmas but also the New Year's Eve when rituals of dances and songs celebrate these special moments.
Carols represent the essence of the Orthodox spirituality and of the Romanian people. These songs are played in association with theatrical plays that depict the actual lyrics. Those that sing carols, traditionally are rewarded with nuts, apples and bread but these days traditions start to change and now they receive money for their performance.
Another important tradition is Plugusorul (The Plow) that is a song performed on New Year's Eve and is meant to wish health and a good crop to all the people in the community. Other masked dances are the goat, the bear or the horse riders. The masks they are wearing represent animals or different human characters.
Neamt County is a place where these traditions are still kept alive by the people living here and tourists that visit this place during the winter holidays will assist at quite a show with traditional dances and songs.