Monastic villages during winter
17 January 2013
No Comment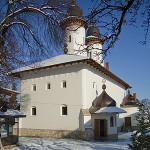 In Neamt County there are two of the biggest monastic villages from Romania, where traditions and customs seemed to be frozen in time. During winter the beauty of these places is even greater and nothing can trouble the peace of these places.
The villages are constructed around the monasteries Agapia and Varatec and can be visited by tourists that want to see the beauty of a traditional village. You don't have to know the place in order to visit it: the roads are easy to follow and it's difficult to get lost.
One of the villages revolves around Varatec Monastery and was built in the XVII century: it has 4 churches, 300 hoses and 420 nuns and it's the biggest from Romania. Here you can also visit the tomb of Veronica Micle.
At Agapia Monastery there are about 340 nuns and is the second village of this type from Romania. Near Agapia Monastery you can also visit Alexandru Vlahuta memorial house.