A new touristic attraction in Vanatori Natural Park
6 February 2013
No Comment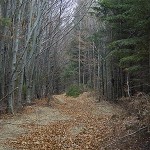 Starting with this year visitors of Vanatori Natural Park will have the opportunity to enjoy a new touristic attraction unique in Romania. In the interior of the park a bridge has been built with a length of 250 m that starts in front of the main building and continues its way through the back in a circular shape. The construction has the same shape as the bridge from Neamt Stronghold but obviously with different purpose: of showing the bio diversity of the park.
Visitors will be able to admire in complete safety the beauty of nature with plants, animals, birds and insects. There is also a platform for groups from where they can see the bison up-close.
The suspended bridge from Vanatori Natural Park was constructed with funds from the project that has as main purpose the conservation of two natural areas: Vanatori Natural Park and the Natural Reservation Secu. The project was approved for a period of time between January 1 2010 and October 2012. There are also two thematic routes that have been organized through the forest.