"Duminica tuturor Sfintilor" Church from Miron Costin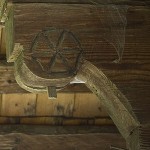 In Miron Costin village there is "Duminica tuturor Sfintilor" Church (The Sunday of All Saints Church) that was built during the time of ruler Stefan cel Mare. The church dates back from 1520 and was built on a stone foundation with 1.5 m thick walls, a length of 28 m, a width of 9 m and a height of 20 m. Over time the church was restored with many occasions that altered the original shape.
Given this fact the building presents two architectural styles: one that dates from the time of ruler Stefan cel Mare, the other from the XVII century. The existence of this religious settlement is connected to the family of Miron Costin. In the church there is the tomb of Vasile Costin, the brother of Miron Costin, that died in 1685. In 1691 in the same crypt was buried in secret Miron Costin that was beheaded during a plot and his wife Elena Movila, the granddaughter of Petru Movila. The bones of Miron Costin were discovered here by V. A. Ureche and he was also the one that moved the bones at Iasi.
The village of Miron Costin still keeps traces of the past: the church is a legacy from dark times that manage to remain intact until today.