"The wood civilization" colloquy from the Cucuteni Museum from Piatra Neamt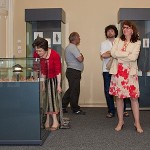 Saturday, May 25 2013, starting at 11:00 will take place during the Festival "Lada cu zestre" the Colloquy "The wood civilization". The organizers of this event are Neamt County Council, Piatra Neamt Local Council and Town Hall, the Museums Complex from Neamt County and "Constantin Matasa" Cultural and Scientific Foundation.
The colloquy will take place in two stages: communications and book launches. The communications session will include speakers like Feodosia Rotaru from the museums complex "Iulia Antonescu" from Bacau, Daniel Calistru from the museum from Pascani, Roxana Diaconu from the History and Ethnography Museum from Targu Neamt, Marcel Lutic, president of the Artisans Association from Moldavia, Constantin Lungu, president of the Artisans Association from Neamt County, Iulia Bucur from Bacau Museums Complex, Dorinel Ichim from the cultural direction from Bacau, Eva Giosanu from the National Museum Complex "Moldova" from Iasi, Ana Barca, researcher at the National Museum of the Village "D Gusti" from Bucharest and Florin Tuscanu protopop of Roman.
The book launch will be presented by Ana Barca and refers to old wood churches from Neamt County by Elena Florescu.