Fun and entertainment on Cozla Ski Slope from Piatra Neamt
7 February 2014
No Comment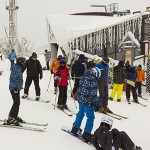 At Piatra Neamt those that love winter sports have green light. The snow fall from the last days and the snow cannons have opened the season for winter sports. Sledges, skies and the boards rule right now. Visitors from Piatra Neamt and the surrounds enjoy some great moments on the ski slope from Piatra Neamt.
The entertainment complex Cozla from Piatra Neamt offers new ski slopes with modern night lights, cable transportation, telegondola and a renting center. The slope from Piatra Neamt can also be a destination for those that love or even want to try some extreme sports. Every February here there are few events like Snow MTB Dual Race or the Dual Cross Snowboard.
On February 14 2014 is announced the first contest from 2014, Dual Cross Snowboard. Come to Piatra Neamt and enjoy some relaxing moments on Cozla Ski Slope.