Traveler in Vanatori Natural Park
18 February 2014
No Comment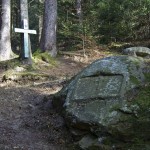 Vanatori Natural Park represents an oasis of peace and beautiful scenery, the beauty of this place comes from the harmony of the environment and the beautiful colored of the seasons. As a tourist once you reached this place you'll feel an inner peace and you'll enjoy the picturesque of the monasteries.
In these parts there are some of the most well known monasteries from Neamt County: Neamt, Secu, Sihastria, Sihla, Agapia and Varatec. Also, in the park there is Neamt Stronghold, a palce present in so many writings. Near the park there is Humulesti village where you can visit the Memorial House of our greatest storyteller Ion Creanga.
In forests like the Silver Forest or the Copper Forest our greatest poet Mihai Eminescu wrote some of his famous lyrics. Agapia is the place where visitors will see the famous paintings of young Nicolae Grigorescu and where Gala Galaction founded the face of his future love.
Calistrat Hogas and Mihail Sadoveanu, two famous writers spend days walking through these forests in search of inspiration or adventure. The values of this park are many are strongly connected to nature and religion that create places of unique picturesque.