Spend the summer holiday in Neamt County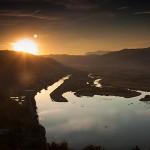 Neamt County represents an attractive touristic location visited by more and more tourists. This is a place where you can enjoy some peace and relaxation, fresh air and also have some fun.
The natural parks from Neamt County offer numerous possibilities to spend your holiday in the middle of nature. The mountain trails represent alternatives to spending the free time and also lose the stress of the daily live.
The Entertainment Complex "Peste Vale" from Piatra Neamt is one of the most visited locations during summer having all the facilities needed to have a great time: swimming pools, tennis and football courts. A visit to Neamt County can also mean the chance of visiting the museums from the area.
The museums are opened from Tuesday to Sunday from 09:00 to 17:00 and the permanent exhibitions have over 300000 pieces for the eyes of the tourists. These objects speak about the culture and history of the place, our traditions and customs, our art and also the animals and flora from this region.
Another highlight is the monasteries from this area. Here you can visit some of the most famous monasteries from Romania, including the oldest monastery from Moldova region, Neamt Monastery.
We invite you to visit Neamt County, to accommodate here and to experience a different kind of vacation: a spiritual escapade!